Since next month's C.Y.C. theme is all about beauty, I wanted to kick the theme off by interviewing a well known Makeup Artist. I came across Brittany Ingram on Instagram. After browsing her page for a couple of months like always, I decided to reach out for a quick interview. I try my best to get interviews with people who are not just well known in the industry, but professionals who display great work behind their name. Brittany does amazing work she has worked with Lynn Whitfield (GreenLeaf), Tyra Banks (ANTM), Mara Brock- Akil (Producer of Love Is), and is the Head MUA for the Steve Harvey Show.
To many this resume may seem like just a list of names, but to me this is Brittany's way of making her mark in the beauty industry. She wants everyone to know her name. After speaking with Brittany I realized that the idea of Hollywood hasn't gone to her head like most individuals in her position. Just one year older than me at the age of 33 Brittany is securing the money bag by using her talent and winning everyone over with her heartfelt personality. Not only is Brittany humble, but she is extremely beautiful, educated, and a complete #GirlBoss. Her goal in the industry is to teach other MUA's how to grow their businesses through marketing and other growing strategies. She wants to provide a minor blueprint for upcoming artist so that they can avoid some of the pitfalls she had to endure starting out. To learn more about the talented Brittany Ingram and how she got to work for the Steve Harvey Show check out our exclusive interview below.

Until Next Time
"Stay Clutch"
Latavia Walston
My Interview With Celebrity Makeup Artist Brittany Ingram!

C.Y.C.- Tell me about yourself? Your age and where you are from?
B.I.- I'm 33 and I am originally from Spartanburg, South Carolina. I moved to LA 10 years ago, June 2008. Before that I lived in North Carolina for 5 years to attend college.

C.Y.C.- How long have you been a makeup artist? How did you get into the industry?

B.I.- I have been a makeup artist for 10 years. I knew I wanted to be a makeup artist, but I didn't know how to start. I've always wanted to work in production, but no one really knows how to get into it. What I decided to do was move to LA where production normally happens. It was between LA or NYC and I knew I didn't want to live in New York. I literally just told myself I was going to move to LA and make it happen. I started working at Mac cosmetics and I used them as a stepping stone. I was at Mac for five years. After my 5th year I got my first client. I came to a crossroads where I had to choose between retail and my production celebrity clients. I felt like I had got to a point in my career where I could let retail go and take a risk. I transitioned to working in production in 2013 and here I am.
C.Y.C.- It's great that you were willing to take that risk. Most people are afraid to go after their dreams. I salute you.
C.Y.C.- What do you love most about makeup?

B.I.- What I love most about makeup is it gives women the ability to look different and feel like their best self. What I mean by that is, some women use makeup as a tool to feel good. They could be attending dinner, or they use it in a way to look different by costuming. I love the flexibility that it gives.

C.Y.C.-Who are some people that have inspired you throughout your career?
B.I.- The first person that inspired me was Sam Fine and Damone Roberts. The inspiration was linear because I learned about them both at the same time. They both would inspire me in a way that forced me to want to become a professional MUA. Along the years I begin to look up to Pat Mcgrath because she is very editorial and the out of the box. In conjunction I also adore Danessa Myricks, especially because they both are black women.
C.Y.C.- I don't know Danessa. I know Pat I am going to look her up.
B.I.- Girl get into her!!! She has her own makeup line and everything! She is amazing.

C.Y.C.-How would you describe your signature look, and what is it about your style that sets you apart from other makeup artists?

B.I.- A signature face for me is a face that is flawless and timeless. I like for women to look beautiful, flawless, and timeless. If you take a photo now I want you to be able to look at that picture 20 years from now and say that it's still beautiful. It's some MUA's work I can look at from the 80's and still say it's beautiful work. I think for me I just do natural beautiful work and I feel like that is what sets me apart from others. My work is not too heavy, it's just right. I tend to have a lighter hand so my work is not over the top. I like to enhance natural beauty.

C.Y.C.- If you weren't a makeup artist, what would your profession be?

B.I.- I would probably be a counselor. That's what I went to school for. I would be counseling in family/ therapy.
C.Y.C.- What University did you attend in N.C. if you don't mind me asking?
B.I.- Winston Salem State University.
C.Y.C.- Okay cool that's a popular HBCU!
C.Y.C.-What are some common beauty mistakes that women make when using makeup?

B.I.- Overdoing it! That's it.

C.Y.C.- For a woman just learning to do makeup what 5 drugstore products would you recommend?

B.I.-Moisturizer by Neutrogena.I love drugstore moisturizer. You don't have to buy $100.00 dollar moisturizer for your skin to get the nutrients that it needs.Mascara you can get a dollar mascara or some Maybelline. Drugstore mascaras are wonderful. I love L'Oréal Telescopic Mascara . L'Oréal's line of mascaras in general are the best on the market.Lip Balm I know a lot of women don't think about it. In a world of liquid lipsticks you need lip balm.A mask is also good! You need something to keep your skin looking fresh once you take it off. Your makeup is only going to look as good as the skin underneath so I recommend a great hydrating mask. I don't buy a whole lot of my makeup from the drugstore, but when I do as far as the foundation, I love the Maybelline Fit Me foundation and the Loreal Infallible Matte Foundation.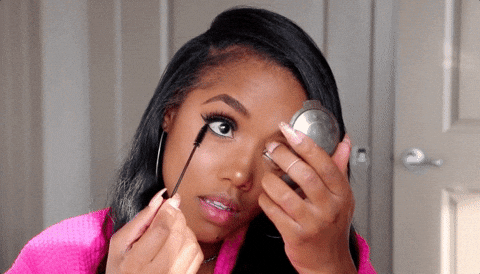 C.Y.C.- What are your top products in your personal makeup bag?
B.I.- Lip glosses in nude shades and blotting powder.

C.Y.C.- What are you most proud of in your career?
B.I.-I am most proud of how I have been able to navigate through this business with integrity, love, and humility. I have been able to make connections with people based on who I am. A lot of people hire me because of who I am. I bring love and light into the workplace. That's a breath of fresh air for a lot celebrities who are working with new glam professionals for the first time. I have been blessed to be able to be myself in the industry and really work on my craft. I haven't had to go against any of my ethics to get to the place that I am. I have been able to lean on God and give him the glory and honor for my career, and I do that proudly!

C.Y.C.- What is your ultimate goal as a makeup artist? Do you want to teach classes in the future?
B.I.- My goal is to continue to be a striving MUA in the industry making a impact in production and film. I haven't done a film yet, but I want to do one in the future. I want to make a mark in the industry that young black female artist are here because we are capable and qualified. I plan to get more of us noticed male and female. In order for that to happen I have to be able to open that door. I have developed a consulting program which will be launching soon, where I teach MUA's how to run a successful business. In the program they will learn how to market and develop their brand. I will be teaching things that I had to learn by trial and error. In the future I will continue being a makeup business coach and providing a makeup artist network for other creatives to be apart of.

C.Y.C.- Let's talk about the Steve Harvey show how did you get such a big opportunity to be the Head MUA?
B.I.- Being the Head MUA is not a easy job because you can't apply for the position. You have to be chosen. I was working with a branding coach at the time doing makeup for her and she was helping me brand my business as well. One of her clients husband was one of the executive producers of the show and he saw the work I did on his wife and love it. From there he hired me on the spot. He asked me if I had a permanent job on set and I said no but I knew it was one of my goals for 2017. My goal when I moved to LA was to be a production makeup artist. I set that goal in April 2017. By September 2017 I was on set working on the Steve Harvey show full- time. It was a opportunity that fell in my lap. I am happy it came at the time it did because I was ready and prepared for it. I put myself in position to be around people who could elevate me and mentor me. C.Y.C.-What advice can you give inspiring MUA's?
B.I.- Create a vision board. Create a vision and be specific! Make it plain in all C-A-P-S.

C.Y.C.- I always end my interviews with a quote. What is a quote that you live by?

B.I.- For we walk by faith not by sight. 2 Corinthians 5:7 *Hebrews 11:1 Now faith is the substance of things hoped for, the evidence of things not seen. I am a woman of faith. If you don't believe in the things you want in life who will. God will provide your wants and needs if you just trust him and believe in yourself all of your desires will come true. Everything that has happened in my life is through the grace of God.
***To keep up with Brittany Ingram or to book her click here to follow her Instagram. To check out her website click here.
​​
​​
​​
​​
​​
​​
​​
​​