I know you remember Sarah Paul better know as (SP). If you don't let me refresh your memory. I raved about her on the @clutchyourcloset Instagram page during NYFW (New York Fashion Week). I stopped her in the street because I was immediately swept away by her beauty. SP has the most beautiful complexion I've ever seen. When you first look at her you almost mistake her for the model Duckie, that's just how gorgeous she is.
When I asked her to pose for a quick picture on my iPhone I knew instantly that the camera loved her. After NYFW I kept in touch with her on Instagram and followed her modeling career. I could have asked for her to do a interview with Clutch Your Closet a while ago, but everything has it's timing. That time is now! To find out more about my favorite model SP keep reading our exclusive interview below. I hope you enjoy!
Until Next Time,
"Stay Clutch"
Lala Walston
Exclusive Interview With Sarah Paul!
 C.Y.C.~ Where are you originally from and how old are you? 
S.P.~ I am 26 years old. I'm originally from Naples, Florida. I'm an old lady LOL.

C.Y.C.~ Did you always want to become a model?
S.P.~ I always wanted to be a business woman. Modeling was just something that I was naturally good at. Growing up it's always the thing where you go to high school and then college to hopefully land a job in Corporate America, and that's life. I did all of that and I realized something was missing and that thing was modeling. Modeling was something that I've always wanted to do, but I put it on the back-burner. I put education and getting a job first priority in my life. I just decided one day that I was going to leave corporate America and pursue modeling.

C.Y.C.~ How many years have you been modeling?
S.P.~ I started officially modeling last September when you met me at NYFW.C.Y.C.~ Wow I thought you were a seasoned pro. You make modeling look so effortless.

C.Y.C.~ What do you find is the toughest thing about being in the industry now?
S.P.~ Getting work as an African American model. I am just getting started, but what I've heard from other models and through experience is that it's hard to get work as an African American model. You also have to work twice as hard compared to other models that are in the industry.

C.Y.C.~ How do you balance being a model and having a job?
S.P.~ I work as a brand ambassador and a promotional model, so I guess I would consider myself as a freelancer. I pretty much book myself for different events and promotions. I am in control of my schedule, which is great. This works out perfectly with modeling because sometimes casting calls and jobs can be so random. When you are just starting out you need to be as flexible as possible.
C.Y.C.~ What is your ultimate dream campaign to model for?
S.P.~ My dream campaign would definitely be a makeup campaign. I WILL HAVE A MAKEUP CAMPAIGN. I would love for it to either be a makeup or skin care brand. I don't have a specific one that I am targeting in general, but it would have to be a beauty campaign for sure.
C.Y.C.~ Yes girl! Speak it into reality!

C.Y.C.~ When I look at you I see a similarity between you and Duckie. Do you get that comparison?
S.P.~ I do get that I favor Duckie a lot, along with Naomi Campbell, and Lupita Nyong'o especially since I cut my hair.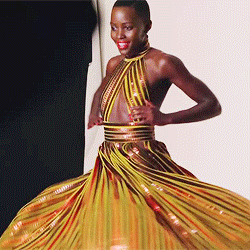 C.Y.C.~ Do you see modeling as your final career?
S.P.~ I definitely want to do it for a while. As long as I can ride it out! I am also very business minded, so I do want to be successful in running my own business.
C.Y.C.~ Do you like runway or print better when it comes to modeling?
S.P.~ I prefer print over runway because the experience with print is more prolonged. Where as runway it's very quick, you have hair, makeup/ nails, and you walk for 10 minutes and that's it. There are a lot of quick changes in wardrobe. It's too fast for me. Print is done at a slower pace.
C.Y.C.~ I totally understand what you are saying especially if you want to do more campaigns. Print was made for you!

C.Y.C.~ Any advice for aspiring models? 
S.P.~ I would say do your research. I know that is the most cliche` answer. Modeling is fun! It's great, but it is also a job. I don't think people think about that aspect of it. They only say "OMG you get to have your hair done, nails, and makeup done", It's really a lot more than that. You have early call times and more than one creative in the room. The reason why you are there is to execute a mood, look, or experience. You have to put that in your mind so it will show through your photos. Sometimes a shoot can be very emotion driven and exhausting from the lights and all of the different directions from multiple creatives. If you don't have tough skin then this business is not for you. People are going to have different personalities and sometimes they may hurt your feelings. You can't take it personal.
C.Y.C.~ Would you ever audition for America's Next Top Model?
S.P.~ I have been told all of my life to audition for America's Next Top Model. The reason I never did was because I didn't want to have to compete. From watching it on television it was a lot going on just to become a model, and I wasn't interested in that process. At this point in time I don't need to audition for the show because I'm signed to a agency.

C.Y.C.~ Tell me what's the process to get signed with a agency?
S.P.~ To get signed it is different for a lot of people. Some people get scouted while they are out and about. Some people go to open calls. During open calls the agency has a specific time frame where you can come in without an appointment and get seen by a representative. The last way is where a agency can reach out to you directly. For me it was a combination between a open call and getting reached out to directly. I went to a open call and initially I didn't get a call back, but then they reached out to me a few months after. I scheduled a appointment with them and I got signed. Sometimes the process is quicker for some people. It just varies on your look, age, portfolio, and the agency.
C.Y.C.~ Congrats on getting signed. I am so proud of you! That's so dope.
S.P.~ Thank you!

C.Y.C.~ There is this misconception that you have to look a certain way as a model. Even though we do have plus size models, I still find that models have to be on a strict diet and maintain a relatively thin appearance. How do you deal with the pressures of body image in the industry?
S.P.~ Good question! My body type is not average. I may look thin, but the typical model measurements are 34 bust 24 waist and 34 hips. The upper half of my body is pretty close to model standards. The lower half of my body doesn't fit that standard. Being a black woman I have hips and a booty. I would say it really depends on your body and what you are being marketed as. As far as the health part of it I would say it doesn't matter if you are a model or not we should all be healthy. You should watch what your eating. You should exercise regularly to maintain overall health. Sometimes in the industry they do want thinner people and that's okay. That does not mean that you can't become a model or get work. All of these brands require different things. In runway they want you to be super tall and thin. During a makeup campaign they may require just a strong pretty face. Just do your best to remain healthy no matter what size you are, and the work will come.
C.Y.C.~ How did you feel when Ebony re-posted your photo? It was a beautiful photo by the way.
S.P.~ I have adopted the motto that if you keep working someone will notice. When I do photos it is really just practice for me. Just like a basketball player who goes to the gym and works on free throws I do the same thing with modeling. That photo was another way of me trying to perfect my craft. I know I can't stop the work because I was noticed. I have to keep going. The more you work people will notice what your doing. I have been featured by a couple of popular brands like Fenty Beauty. 

C.Y.C.~ Describe your personal style in fashion? 

S.P.~ Basic, Simple, and Poised.

C.Y.C.~ What's your favorite shoot that you have done so far?

S.P.~ That's so hard to answer. Any shoot where myself and the creatives in the room had a brilliant idea and it was executed. I love when shoots turn out the way the creative envisioned for it to be. That is a great shoot in my opinion.

C.Y.C.~  Have you ever been the creative director for one of your own shoots?
S.P.~ I wouldn't give myself that title. I would say more like a collaborator. When you get on set ideas change, or moods change based on what I'm projecting in the photos.
C.Y.C.~ Who is your favorite model?
S.P.~  Naomi Campbell of course because she is iconic. I would have to say Duckie because she took the industry by storm. She has done a lot of different things. I really look up to her. I pretty much look up to anyone who is willing to do the work and break barriers in the industry.

C.Y.C.~ I always end my interviews with a quote. What is a quote that SP lives by everyday?

S.P.~ I am going to give the quote that I said earlier as it relates to modeling. "Keep working and people will notice."
***P.S.~ To keep up with Sarah Paul please follow her on social media. @spthemodel
** All photos were provided by Sarah Paul via Instagram.
​​
​​
​​
​​
​​